Instructions for assembling a foot sensation trail
The easiest way is to place the materials on fleece webs, which are about 1.5 meters (5 ft) broad. This is practicable on lawn as well as on hard floor and ensures easy removal after the event.
Basics
The fleece webs are placed according to the space available and pinned down with stones (on lawn) or twin-sided adhesive tape (on pavement etc.). A V-shaped arrangement with a total path of 20-30 m (65-100 ft) is practical. In summertime, the surrounding grass should be cut before making up the trail. This helps to keep off bees, which might be attracted by flowering clover.
Be aware that materials tend to spread out during use of the barefoot trail! Therefore keep some distance to the sides and about 1 m (3 ft) between the different materials. This initial gap will be disappear within a short while.
Materials
Sand, mulch from bark or wood, round gravel of small to medium size, hay and straw can -- if not obtained for free -- be bought in zoo or garden shops

Fir cones offer a fantastic foot massage. The quantity for about 3 m (10 ft) can be collected within half an hour. The cones should be moistened one day before use to make them smooth. If placed in the sun, water them at times during the event!

Pieces of bark can be found where trees have been felled.

Perhaps your neighbor comes from cutting his hedge and leaves you the waste?

Leaves of various trees or the soft needles of the larch can be collected in autumn.

Be creative and find out lots of further materials like moss, peat, various seeds, wood pellets etc.!

And don't forget: going barefoot on broken glass is gorgeous!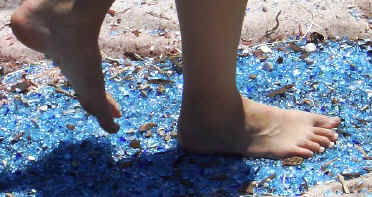 Suited glass can be purchased as recycled material
Remaining materials can be stored in boxes or jute bags. Plastic bags are only suited for dry materials.